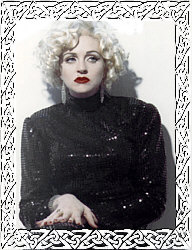 Madonna Secret: "Turn form Wickedness or We're All Going to Hell"
Now here is someone who is soon going to run out of things to shock us with. So far, all her successes seems to have had an amount of shock attached to it. From her hit "Like a Virgin" all the way to that kiss with Britney, and all the elements of her career in between.
Now she has taken a different approach, letting us all know, we're going to hell. This from the material girl?
She goes on, "The material world. The physical world. The world of illusion, that we think is real. We live for it, we're enslaved by it. And it will ultimately be our undoing," Madonna explains in her new documentary film, "I'M GOING TO TELL YOU A SECRET." In the movie she says, ""…we are going to go to hell, if they don't turn from their wicked behavior. I refer to an entity called 'The Beast'. I feel I am describing the world that we live in right now. To me 'The Beast' is the modern world that we live in."
She also adds, ""Most priests are gay."
She declares herself to be quite the disciplinarian as a report says that her children are not allowed to watch TV, read magazines, drink milk or eat ice cream.
No ice cream? I don't know, it just seems a basic childhood right to me.
I personally have never purchased a Madonna CD, I think I just have issues with someone willing to go so far over the top for attention as she does repeatedly. No matter how you feel about her, we all just might have to prepare for her new role, TV Evangelist.