Peasant Omelette
Peasant Omelette
I love my chats on the telephone with Miranda. Last night's particular discussion led to omelettes.
I suddenly remembered a very tasty and delicious (But good for a budget) omelette recipe. This is so yummy!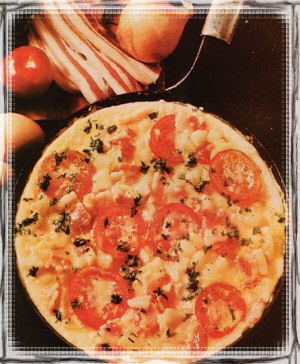 Peasant Omelette
4 to 5 slices thick bacon
4 boiled potatoes
I onion
4 eggs
4 tablespoons milk
Salt &  Pepper
2 tomatoes, sliced
2 ounces Swiss cheese
grated Parsley
1. Chop the onion and cut the potatoes in cubes.
2 . Brown the bacon, potatoes, and onion in a skillet.

3. Beat the eggs with milk. Add salt and pepper to taste and pour over the ingredients in the skillet.
4. Put sliced tomatoes on top and sprinkle with cheese. Make sure eggs are evenly distributed in the skillet. Cook until omelette is creamy on the surface. About 10 minutes.
5. Serve with cut parsley on top.