Alsatian Chicken
Want something new and different to do with chicken?
I made this Franch recipe years ago, and remembered it as a favorite.
Since it was my night to cook, I thought I would dig this out and try it again. Everyone loved it!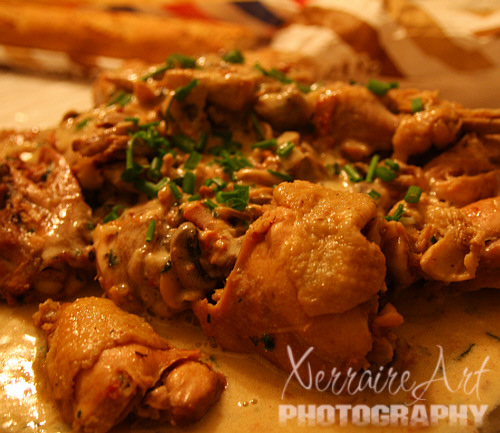 Alsatian Chicken
About 1 and half hours preparation time.
To serve 4-6
8 chicken pieces
1 garlic clove
2 oz slab of bacon
1/4 c. oil
2 onions
1 cup dry white wine
1/4 lb. mushrooms
2 bay leaves
2 T. chopped parsley
2 T. chopped chives
1 T. arrowroot
1/2 c. light cream
fresh parsley
salt and pepper
Rub the chicken all over with halved garlic clove. Dice bacon. Fry in flameproof casserole till brown. Add oil and when hot brown chicken pieces on all sides.
Peel and finely chop onions. Add to casserole and brown. Pour in half the wine, cover and cook for 35 minutes.
Slice mushrooms and add to casserole with bay leaves, half the chopped parsley and chives and seasoning. Cover and cook for 10 minutes.
Discard bay leaves. Take out chicken pieces with a slotted spoon and place on warmed serving dish. Keep hot. If there's a lot of liquid in the casserole, boil till reduced by half. Mix arrowroot with remaining wine and stir into pan juices. Cook, stirring, till sauce thickens, then gradually stir in cream. When hot, (it must not boil), pour sauce over chicken. Garnish with remaining chopped parsley and chives and parsley sprigs.
And just to know something about the Alsace region in France where this dish comes from…
Alsace [and Lorraine], unlike the other French Regions, abound in both French and German influences.  The region is situated in mid-eastern to north-eastern France.  It is bound to the north by Germany and to the east by the Rhine River [with Germany across the Rhine], to the south by Switzerland and the region of Franche-Comté and to the west by the beautiful Vosges mountains and the region of Lorraine.

Much of Alsace is found on a fertile alluvial plain, between the Rhine River and the Vosges mountains in the west.  The lower area, that rises from the Rhine, is checkered with vineyards.  The higher slopes are forested and sprinkled with monasteries and old castles.

The region of Alsace consists of the départements of Bas-Rhin and Haut-Rhin.  Its principal cities are Colmar, Mulhouse and the regional capital Strasbourg.

Alsace [and Lorraine] is unique, among French regions, due to its dual Franco-Germanic cultures.  The majority of the population speaks French with a decided German accent, the cuisine is an able blend of French and German cooking, many of the towns of the region have German names and the village architecture delights in a pronounced Germanic influence.

A visit to this area is always a delightful experience.  It provides an enjoyable and relaxing escape from the hustle and bustle. One can drive, or ride a train, along the Rhine and watch the scenery unfold before your eyes.  The word 'Magnifique' describes this beautiful region, with its peaceful and restful influence.

One can stay in B&Bs [a zimmer frei], on the slopes of the Haut-Rhin the local cuisine and people.  Or, one can visit Strasbourg, the headquarters of the European Parliament, with all of its wonderful architecture, diverse culture and international cuisine.  But in spite of its international flavor, Strasbourg is a somewhat laid back city compared to large cities in general.