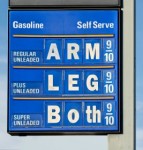 You remember Pelosi when she had some strong words against Bush about the price of gas?
With skyrocketing gas prices, it is clear that the American people can no longer afford the Republican Rubber Stamp Congress and its failure to stand up to Republican big oil and gas company cronies. Americans this week are paying $2.91 a gallon on average for regular gasoline – 33 cents higher than last month, and double the price than when President Bush first came to office.

"With record gas prices, record CEO pay packages, and record oil company profits, Speaker Hastert and the Majority Congress continue to give the American people empty rhetoric rather than join Democrats who are working to lower gas prices now.
She also had this to say:
"Democrats have a common-sense plan to help bring down skyrocketing gas prices by cracking down on price gouging, rolling back the billions of dollars in taxpayer subsidies, tax breaks and royalty relief given to big oil and gas companies, and increasing production of alternative fuels."
We've been waiting a long time to see this "common sense plan". That quote was during the Bush years.
And that's who she blamed, BUSH.
House Speaker Nancy Pelosi Thursday blamed the "two oil men in the White House," President Bush and Vice President Dick Cheney, and their Republican allies in Congress for gas prices exceeding $4 a gallon.

Pelosi, a California Democrat, said multiple initiatives intended to lower high energy costs have passed the Democratically controlled House only to "run into a brick wall" in the Senate because they did not receive the 60 votes needed to overcome Republican filibusters.

"The price of oil is… is attributed to two oil men in the White House and their protectors in the United States Senate," Pelosi said in an interview with CNN's Wolf Blitzer.


Odd. Foreign oil producers can, simply by drilling more and increasing supply. Democrats are immune to the laws of supply and demand.
Democrats controlled the Congress from 2007-2011. They had a super-majority from 2009-2011. What did they accomplish? How much less dependent are we now on foreign oil? The truth is that we are more dependent on foreign oil than ever. Democrats failed utterly at energy, but they still are full of gas.
Oh how they can talk!
It's ok. The world is falling apart, but Obama is getting in his 60th golf game as president.
All is well.