"All deception in the course of life is indeed nothing else but a lie reduced to practice, and falsehood passing from words into things."
~Robert Southey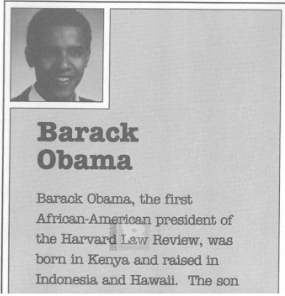 However you want to look at this, whether you're a "birther" or not, this is interesting.
It is evidence–not of the President's foreign origin, but that Barack Obama's public persona has perhaps been presented differently at different times.
***
Breitbart News has obtained a promotional booklet produced in 1991 by Barack Obama's then-literary agency, Acton & Dystel, which touts Obama as "born in Kenya and raised in Indonesia and Hawaii."
The booklet, which was distributed to "business colleagues" in the publishing industry, includes a brief biography of Obama among the biographies of eighty-nine other authors represented by Acton & Dystel.
Acton, who spoke to Breitbart News by telephone, confirmed precise details of the booklet and said that it cost the agency tens of thousands of dollars to produce.
He indicated that while "almost nobody" wrote his or her own biography, the non-athletes in the booklet, whom "the agents deal[t] with on a daily basis," were "probably" approached to approve the text as presented.
Dystel did not respond to numerous requests for comment, via email and telephone. Her assistant told Breitbart News that Dystel "does not answer questions about Obama."
The errant Obama biography in the Acton & Dystel booklet does not contradict the authenticity of Obama's birth certificate. Moreover, several contemporaneous accounts of Obama's background describe Obama as having been born in Hawaii.
The biography does, however, fit a pattern in which Obama–or the people representing and supporting him–manipulate his public persona.
David Maraniss's forthcoming biography of Obama has reportedly confirmed, for example, that a girlfriend Obama described in Dreams from My Father was, in fact, an amalgam of several separate individuals.
In addition, Obama and his handlers have a history of redefining his identity when expedient. In March 2008, for example, he famously declared: "I can no more disown [Jeremiah Wright] than I can disown the black community. I can no more disown him than I can my white grandmother."
Several weeks later, Obama left Wright's church–and, according to Edward Klein's new biography, The Amateur: Barack Obama in the White House, allegedly attempted to persuade Wright not to "do any more public speaking until after the November [2008] election" (51).
Obama has been known frequently to fictionalize aspects of his own life. During his 2008 campaign, for instance, Obama claimed that his dying mother had fought with insurance companies over coverage for her cancer treatments.
That turned out to be untrue, but Obama has repeated the story–which even the Washington Post called "misleading"–in a campaign video for the 2012 election.