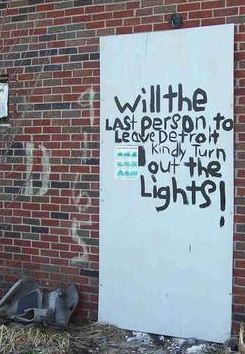 Detroit has been a city in trouble for awhile, even photographers have dedicated some time to it's demise showing it in RUINS.
Detroit, whose 139 square miles contain 60 percent fewer residents than in 1950, will try to nudge them into a smaller living space by eliminating almost half its streetlights.

As it is, 40 percent of the 88,000 streetlights are broken and the city, whose finances are to be overseen by an appointed board, can't afford to fix them. Mayor Dave Bing's plan would create an authority to borrow $160 million to upgrade and reduce the number of streetlights to 46,000. Maintenance would be contracted out, saving the city $10 million a year.

Detroit's dwindling income and property-tax revenue have required residents to endure unreliable buses and strained police services throughout the city. Because streetlights are basic to urban life, deciding what areas to illuminate will reshape the city, said Kirk Cheyfitz, co-founder of a project called Detroit143 — named for the 139 square miles of land, plus water — that publicizes neighborhood issues.

Delivering services to a thinly spread population is expensive. Some 20 neighborhoods, each a square mile or more, are only 10 to 15 percent occupied, said John Mogk, a law professor at Wayne State University who specializes in urban law and policy. He said the city can't force residents to move, and it's almost impossible under Michigan law for the city to seize properties for development.

Mogk said landowners can demand many times what property would fetch on the open market.

"There are tremendous political, administrative, financial and, to some degree, legal obstacles," Mogk said. "Unless you phase out a neighborhood altogether, you still need lighting, and waste pickup and police and fire protection."

As Detroit's streets go dark, some of those neighborhoods may fade away with the dying light.
Wow, surely those in the mentioned 1950's never saw this coming.
Sounds like Hope and Change could also spread into even more cities, coming near you!