Light a Candle for the Light Bulb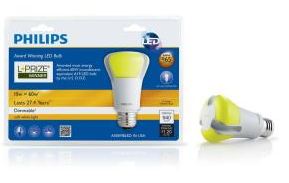 If you go to the shopping mall, shops, or markets, one notices a lot of candle stores out there. It's kind of funny that in this day and age, with the invention of the light bulb, we even bother with candles any more.
Perhaps the new price of a certain light bulb will send us all running to the candle stores.
From the Washington Free Beacon:
Obama's Dim Bulbs
U.S. Taxpayer paid Philips Global $10 million and all they got was a $50 light bulb
The Department of Energy paid Dutch energy-giant Philips Global $10 million for its newest LED light bulb. Now the two are trying to figure out what to do with it.

The bulb, which is slated to replace the 60-watt incandescent light bulb lawmakers banned in 2007, costs $50, well above the $1 consumers are used to spending on traditional bulbs and double the price of many existing LED lights.

…

The steep price tag is not the competition's first brush with controversy.

A House Appropriations Committee report issued in June slammed the department for announcing the $10 million prize without prior approval from Congress.

"The Committee strongly opposes the Department announcing funding opportunities when those funds have not yet been made available by Congress," the report reads. "In the case of the L Prize, the Department risks damaging its credibility."

The warning was enough to worry higher-ups at Philips, which spent nearly $1.8 million lobbying Congress to fund the program.
A-ha!
Perhaps that is the REAL reason for the steep price of the new light bulb?
The committee granted the award money to spare the department embarrassment, but changed its rules to prohibit "announcements in advance of appropriations."

Philips received about $5.6 million from the federal stimulus to advance its LED lighting technology. It spent nearly as much—$4.5 million since 2008—lobbying Congress and the Obama administration for bills friendly to lighting appropriations.

Casanova refused to "talk to the lobbying spending," but emphasized that the bulb maker did not use any stimulus dollars for researching the bulb.

"We didn't get any money to develop this bulb," she said.
*sigh*
Tell us another one.
In the meantime, here are some candles you might like. 🙂