****UPDATED BELOW
"Were the executive power not to have a right of restraining the encroachments of the legislative body, the latter would become despotic; for as it might arrogate to itself what authority it pleased, it would soon destroy all the other powers."
~Charles Secondat, Baron de Montesquieu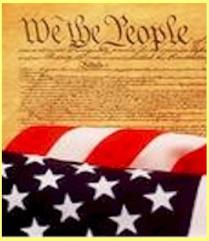 Madison and the Founding Fathers took heed of Montesquieu's warning by establishing an independent executive (the President), legislative (the Congress), and judiciary (the Supreme Court) in the federal Constitution.  Madison masterfully protected the separation of powers by establishing a thorough system of checks and balances as well.
Montesquieu died on February 10, 1755.
According to Newt Gingrich perhaps our Constitution died June 15, 2012
Newt writes:
If last Friday's dictatorial action by President Obama is allowed to stand, historians may someday look back on June 15, 2012 as the day the Constitution died.

The rule of law has been replaced by Obamarule.

The Founding Fathers designed the Constitution to limit the power of politicians.

They had fought an eight year war against the tyranny of King George.

Arbitrary personal decisions that allowed the King to pick winners and losers was a significant part of their grievance against the British Monarchy.

They relied on Montesquieu's theory of divided power to protect freedom and liberty from politicians.

Now, in one bold move worthy of Cesar Chavez or Vladimir Putin, President Obama has added the role of Congress to that of president.

This may sound melodramatic, but that is only because of the cynicism and shallowness of the modern news media and modern politics.

In declaring that his administration will not deport those who came to this country illegally at a young age, President Obama has suspended the law for approximately 800,000 young people.

In truth, no one knows how many people will be covered by Obamarule. Will more come into the United States while the regulations are being written? Which bureaucrat decided in secret it covered 800,000 people and what was their analysis based on?

Why people 16 and under? Why not 15? Why not 17? Why was serving less than one year in jail okay? Why not zero jail time? Why not 18 months?

How can we verify they have earned an authentic G.E.D. certificate rather than merely bought one?

Why is it a two year waiver rather than a five year waiver?

If Obama has had this power all along why didn't he use it in January 2009?

The point is not that the United States does not need comprehensive immigration reform. Indeed, immigration reform could help spur the economy and create domestic stability for families here illegally. The point is that we must debate such policy ideas within the proper channels of the legislative branch instead of by executive fiat.

One of the major purposes of the legislative process is to get questions like these out in the open so citizens can see the answers.

Another major purpose of the constitutional division of power is to ensure that no one person can write laws.

In this case the Constitution is clear that Congress sets the rules for naturalization and citizenship.

Finally, the power of Congress to control the executive branch includes the power of the purse.

No money has been appropriated to pay for Obamarule. Any money spent on its implementation without Congressional authorization and appropriation would be clearly unconstitutional and illegal.

No president in our history has been as willing to destroy the Constitution as Obama.

Under the shallowness and cynicism of our Washington establishment we are drifting toward a genuine Constitutional crisis.
Why even have laws if the president can be the first to break them or remake them?
When Obama took the oath of office, he PROMISED to "faithfully execute the Office of President of the United States, and will to the best of my ability, preserve, protect and defend the Constitution of the United States."
I don't think that's what's going on here, do you?
Do you think it shows he is worried about getting re-elected and counting on this for votes?
**** I would say that perhaps he IS worried about getting re-elected, even some of his own party are opting out of the Democratic Convention!
From The Daily:
Vulnerable Democrats looking to distance themselves from President Obama have found an easy way to bolster their independent bona fides: just skip Obama's big party.

At least half a dozen Democratic officials have said in recent days that they won't attend the Democratic National Convention this September in Charlotte, North Carolina, where the president will formally receive the party's nomination for a second term. The latest: New York Democratic Reps. Bill Owens and Kathy Hochul, both of whom won special elections in recent years – in 2009 and 2011, respectively – that were heralded by party leaders.

"I guarantee that my time will be better spent meeting the farmers, small business owners and other people who put me here," Hochul told The Daily today.

A spokesman for Owens gave a similar explanation.

"He just has a packed schedule back home," he said.

This comes on the heels of Pennsylvania Rep. Mark Critz saying he'd opt out, and a trio of West Virginia Democrats — Gov. Earl Ray Tomblin, Sen. Joe Manchin and Rep. Nick Rahall — all doing the same. Even though most of the convention-skippers have claimed they'd simply rather spend time back home, the political undertones are clear. After all, these Democrats share one thing in common: They answer to a conservative-leaning electorate that, at best, views Obama with a great deal of skepticism.