Aggressive Progressive Insurance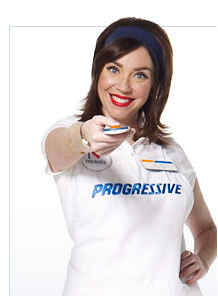 Since I believe the outcome of our elections was largely due to unreported, or better said, blocked newsworthy items about the president, I feel it will be the citizens journalist's duty to make readers everywhere aware of what really goes on in American Politics. I will be looking even closer when major networks FAIL, as well as learning about businesses to boycott for their influence people for their "Progressive" Socialist agenda while they make billions.
So let's start with Progressive Insurance. You can see their commercials about every 9 minutes on the television.
Whether you find "Flo" cute or annoying, she must do a good job in selling insurance for Progressive.
This Insurance Company is from US and their Chairman and Owner is one Peter Lewis.

Peter Lewis is a Billionaire, but like so many Capitalists they are bent on Socialism. Â You see Peter Lewis and George Soros are two of a kind, both donate $Millions to Socialist causes and Groups and both are madly keen on legalising Marijuana.

These men :

George Soros, Billionaire Financier

Peter Lewis, Chairman of Progressive Insurance

George Zimmer, Men's Wearhouse CEO

Sir Richard Branson, Chairman of Virgin

Ted Turner, Media Mogul

John Sperling, Founder of the University of Phoenix

Robert W. Wilson, Hedge Fund Titan

Irwin Mark Jacobs, Founder of Qualcomm

Dame Anita Roddick, Founder of The Body Shop

Sean Parker, Co-Founder of Napster and Facebook

Philip D. Harvey, Pornography Entrepreneur and Philanthropist

Dustin Moskovitz, Co-Founder of Facebook

All were heavy contributors for a campaign to legalise Marijuana in the US and all are wealthy Socialists.  It seems rather hypocritical that these Capitalists are heavily involved in the Socialist movement.

Lewis also gave $12.5 million to MoveOn.org and American Coming Together, two key propaganda arms of the socialist left.
His funding for these groups was conditional on matching contributions from George Soros, the America-hating socialist who is the chief financier of the Obama political machine.

Billionaires Peter Lewis and George Soros have each pledged $10 million to America Coming Together…  A billionaire, Lewis is the chairman and chief executive officer of Progressive Corporation, the fourth-largest U.S. personal auto insurer, A leading U. S. business reference manual, Hoover's Handbook of American Business l999, actually described Lewis in print as "a functioning pot-head."… His house features an elaborate series of paintings of Chinese communist Mao Tse-tung by Andy Warhol. Lewis has contributed $5 million to the American Civil Liberties Union (ACLU).