She Had 21 Children
The fun I have on Ancestry.com
doesn't stop at learning about my own heritage, I have also included John's side. The Dolphin family history has been more challenging. Information in England is a lot different. Maiden names aren't included in much of the records is just one challenge.
When I learned that John's father's grandmother had 21 children, I wanted to learn more. That had to be one very remarkable lady. Help came in a small newspaper article, as apparently I am not the only one who found Alice Dolphin as someone to learn more about.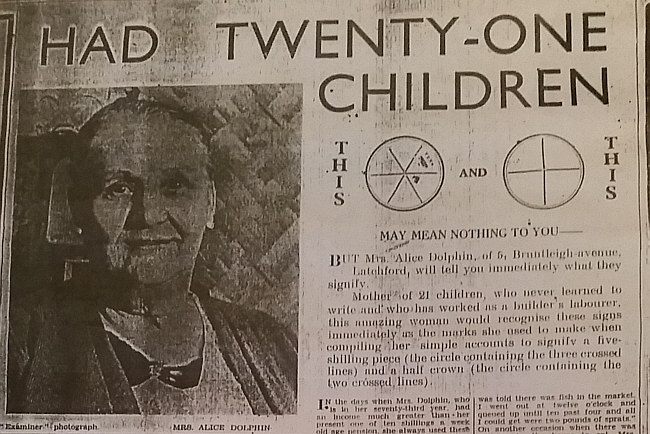 For one thing, she didn't just have children, she was BUSY working too!
Sadly, she had no education, she couldn't read or write, the article went on to say, that wasn't unusual in those days. Alice was born in 1867 in Warrington, Lancashire. Later on in life, she couldn't walk and was mostly confined to bed. When she did venture out, she had to be strapped to a frame to help her to stand. In spite of these issues, Mrs. Dolphin was described as "one of the most cheerful women in the town."
So other than having 21 children and being cheerful, the article listed her jobs as nothing for the faint of heart:
When she was 11 she started working for Mr. Joshua Wilkinson who ran a fustian cutting business in Longford Street. She worked there for 21 years.
She then worked at Mears, a tanning company. She wasn't a clerk, she was a laborer. Among her duties for 11 years was stripping the hides and wheeling the handcarts full of fleshlings. She started at 6 in the morning and worked until 5:30 for 5 and half days a week.
What she refers to as her lightest job was being a cook at Lord Derby's military hospital at Winwick.
For 3 and a half years during the war she undertook the work of a brick-setter's laborer at the works of Pearson and Knowles Coal and Iron Company Ltd. where chipping bricks and carrying the hod became 'child's play' to her.
Alice Dolphin also had something to say about the modern girl of her day:
A chap is lucky nowadays if he gets a good wife. Most of them seem to think more about powdering their faces, putting lipstick on, wearing silk stockings, and going out with handbags under their arms than anything else. They do not care about the man who earns the money and scores of them cannot even cook an egg. In my young days we were not concerned with all this fancy stuff. I brought up my children on good food, including buttermilk and taters and a favorite meal was stewed onions, lightened with flour, and with two or three good chunks of baggin (bread). And we never forgot the brimstone and treacle. We used to have that even if there was nothing to eat.

You can say what you like but nothing beats a good cook and a clean girl for a working man's wife.
The newspaper article went on to say that in spite of the low income between her and her daughter, (who she lived with at the time of that writing, which was only 30 shillings a week and 14 went to rent) the house was spotless and clean.
Well she might not impress TODAY'S modern woman, but I think she should.